An atmosphere that could have enveloped it for billions of years and possible liquid water make planet most likely home for life, say scientists
An Earth-sized world that swings around a star in the constellation of Aquarius has become a priority in the search for extraterrestrial life after scientists found that an atmosphere could have enveloped the planet for billions of years.
The planet is one of seven circling a small and feeble star called Trappist-1 which astronomers reported in a wave of excitement in February this year. The rocky world lies in the habitable zone around its parent star, where temperatures should allow for free-running water, but that would count for little if the planet has no atmosphere.
Since the discovery of the seven planets there has been a great deal of interest in using telescopes such as the upcoming James Webb Space Telescope to determine whether these planets have atmospheres, and if so, what their composition is like, said Manasvi Lingam at Harvard University. It is fair to say that the presence of an atmosphere is perceived as one of the requirements for the habitability of a planet.
If Earth serves as a good example, the evolution of complex and ultimately intelligent life calls for an atmosphere that not only contains the right blend of gases, but which persists for hundreds of millions, or preferably billions, of years.
With Nasas James Webb Space Telescope not due to launch until late 2018, the scientists turned to computer models to find out whether the Trappist-1 planets could have long-lived atmospheres. From details of the Trappist-1 system, which lies 39 light years distant, they worked out the intensity of the stellar wind the rush of high energy particles streaming out of the star and the effect it would have on the seven orbiting planets.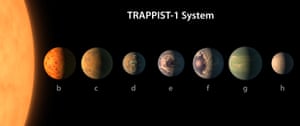 Read more: http://www.theguardian.com/us