The Futuro house, complete with built-in furniture and a spaceship-style entrance, is one of only about 100 ever built
A rare spaceship-shaped home has been put for sale in New Zealand, attracting international interest as sci-fi and architecture nerds scramble to secure a UFO abode by the sea.
Futuro houses were created in 1968 by Finnish architect Matti Suuronen as pre-fab, portable ski chalets. Shaped like an egg and constructed from fibreglass-reinforced polyester plastic the unusual houses became cult designs, with less than 100 ever produced.
There is something magical about the shape of an egg, its smoothness and strength and the spaceship is like that; it is an iconic shape that attracts you to it, says Juanita Clearwater, an architectural designer, who is selling her beloved Futuro.
Futuros get under your skin, it is like an adult treehouse.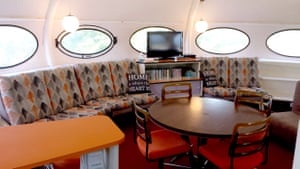 Read more: http://www.theguardian.com/us